THE ORIGINAL MICHAEL MYERS MASK:
TRACKING DOWN A PROP THAT MADE HORROR HISTORY



A Horror Drunx Exclusive article


By

Johnny Bisco





Recognize this mask?




Of course you do, it is The Shape, Evil Incarnate, the mask Michael Myers wore the night HE came home. I'm sure most of you know this already but for those that don't, it was a converted Don Post Studios Captain Kirk Star Trek Mask that was first produced in 1977. The story goes according to production manager Tommy Lee Wallace that in the spring of 1978 while getting ready to film Halloween in Pasadena and off Hollywood Blvd. that they needed a mask that had a human face but with no discerning features. So he went to a mask shop on Hollywood Blvd and picked up a "clown" mask and the Captain Kirk mask.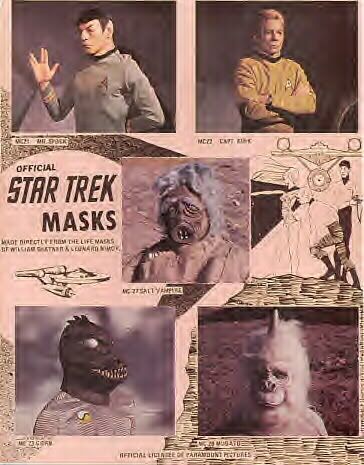 The story goes that the "clown" mask was not some generic mask,
but was a Don Post Emmett Kelly mask as seen below!




I have often wondered to myself what would have happened had they decided to use that one. I imagine if that had did modifications to it it could have been very creepy.

So in order to achieve what they were looking for they took the Captain Kirk mask and modified it. Wallace cut the eyes bigger, ripped off the sideburns, colored the hair and spray painted the face white. For the other masks that were used in the film there is some debate as to who actually did the work on them, as Wallace and Don Post have both taken credit for it at various times. There were at least 2 surviving masks from the movie when it had completed principal photography, as proven by the following photograph.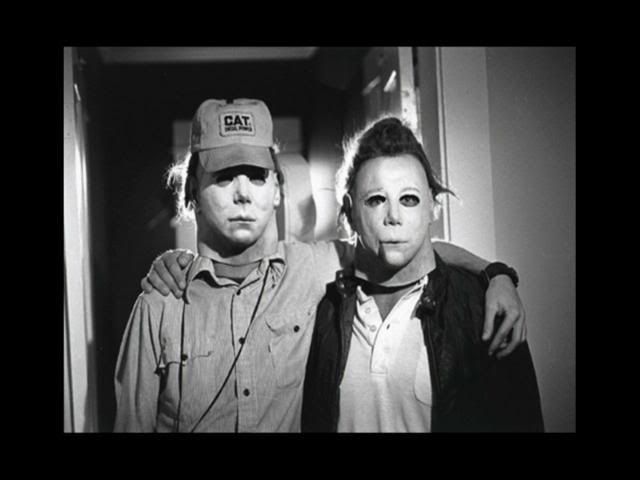 John Carpenter and Nick Castle were both members of a band called "The Coup DeVilles" and played the wrap party wearing the masks. I have no idea what happened to the second mask and if anyone does they arent talking. The "hero" mask that was used for most of the production was taken home by producer Debra Hill, where she kept it in a box under her bed for 3 years. After the big success of the movie and the countless clones that came out afterwards, it was decided to make a sequel. Contrary to popular belief the same mask was used in Halloween 2 as was used in Halloween. Looking at the pictures below, one might say that it is a different mask. Nick Castle from H1 on the left Dick Warlock from H2 is on the right.






There are a few reasons it looks so much different. The Captain Kirk mask was really a childs costume mask and very small. So when it was put on an actors head it had to be stretched. Nick Castle has a long thin head, while Dick Warlock has a shorter wide head, thus the mask looked different on different shaped heads. Another reason it looks different is because when it sat under Debra Hills bed for 3 years it wasn't well taken care of and was constantly around cigarette smoke and thats why it appears discolored in the film. But this picture of Dick Warlock and his son Lance with the mask you can see that it is the same mask since it's not being worn.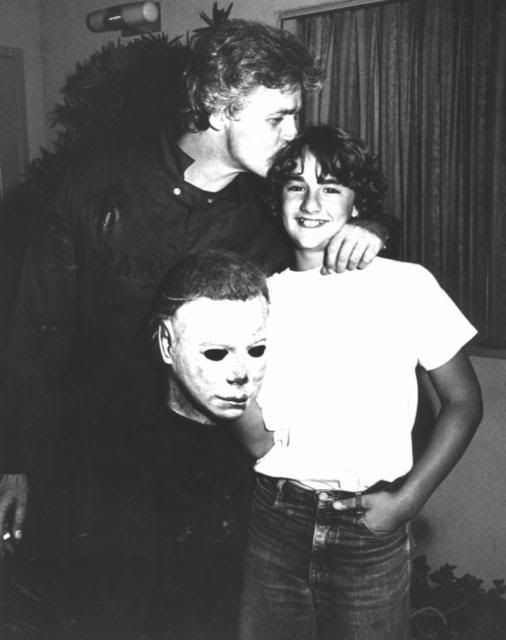 After Halloween 2 was completed it was decided that all Halloween sequels after would be Myerless and Dick Warlock was allowed to take the mask, the coveralls, the scalpel, and the boots home. There were rumors over the years that he had sold it to a private collector in Japan but I think it was to keep people from repeatedly asking about it. Dick Warlock no longer has the mask or other props as he in his own words "...sold them to a man in Ohio. He has two haunted houses. One in Toledo and one in Tiffin. He had the mask and coveralls on display there this past October. I'm supposing he'll display them every year in one place or the other".

Below is the last known picture of the mask and it quite depressing really. Years of not taking proper care of it have seemed to taken it toll and in this Horror Drunx opinion, is a real shame.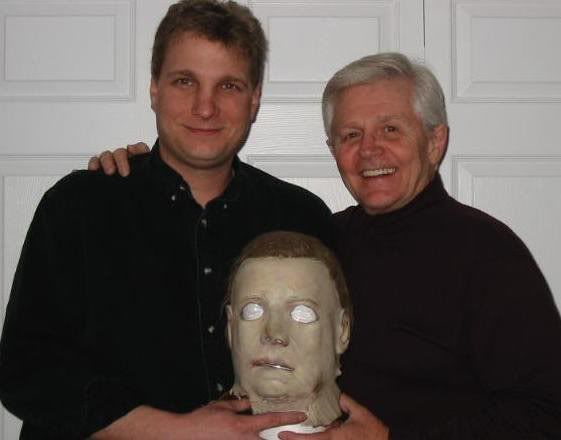 While researching this article, the name of the new owner has so far has eluded me, nor have I been able to figure out exactly where his haunted houses are. It is also to my understanding that he will not allow pictures of any kind to be taken of this piece of cinematic history, which is very suspicious. I can't say for sure how the new owner cares for this mask as I have never seen it in person, nor do I know him. I won't make any accusations as I've seen some people do, but I would like to see this mask at least once before the latex rubber decomposes (an ongoing problem that plagues vintage Don Post mask collectors) and it turns into a pile of dust.

The only lead i have to the whereabouts of the man who owns the mask is this website http://www.terrortown.net though there is no confirmation on there as to who runs it or if it is indeed the man who owns the mask. If it is, he doesn't feature it on his website or in any of the text, as one of the attractions. When it comes to the subject of classic film preservation, I am equally enthusiastic about prop preservation.



"My name is Johnny Bisco and I am a Horror Drunx"


Johnny Bisco
The Horror Drunx: Michigan Chapter leader
---
Copyright 2008 The Horror Drunx and the Author. This article is original content created EXCLUSIVELY for The Horror Drunx. The information contained in exclusive articles may not be published, broadcast, rewritten or otherwise distributed without the prior written authority of The Horror Drunx.
---
Our Advertisers...